V-Dubs RC Roll Over Beetle
No customer reviews yet. Be the first.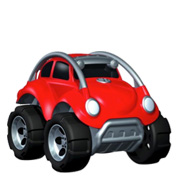 V-Dubs RC Rollover Beetle is one cool racing machine with a unique forward roll feature! Thatís right; this toy can perform a headlong roll and land back on its wheels. As well as the usual reverse, forward and turn capabilities from the RC hand controller, it also has realistic engine sounds.
A sticker sheet lets the kids customise their RC Rollover Beetle any way they want which adds to the exciting styling options that this vehicle offers. Fans of the V-Dub range may also want to check out the Custom Chargers or the Speeders that take their styling cue from Campervans and convertible Beetles.
RECOMMENDED RETAILERS

Amazon
The world's most famous online retailer sells an unparalleled selection of toys.
Buy the V-Dubs RC Roll Over Beetle now >>