Bigjigs Toy Bundle
No customer reviews yet. Be the first.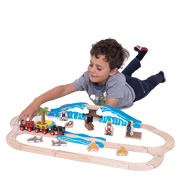 In conjunction with our friends at Bigjigs, we're delighted to be giving away a monster selection of their favourite wooden toys (worth over £100) to one lucky winner in an exclusive competition starting soon. Join our newsletter to be notified of this competitionís launch.
This extraordinary bundle of wooden toys from Bigjigs is headlined by the awesome Pirate Train Set. Perfectly designed for all swashbuckling adventurers, the bumpy track passes through stormy seas, goes past the treasure island and over the waves on a bridge. Watch out for the hungry sharks and octopuses though! The Sweetland Express add-on pack has a train and three carriages that are packed full of your favourite sweets.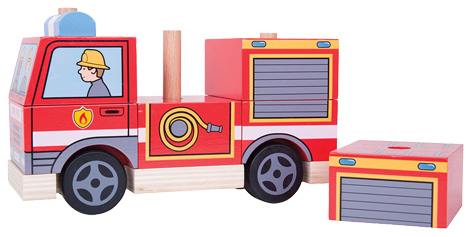 Junior dinosaur fans will be amazed by the colourful wooden Pull Along Stegosaurus that features elastic joints for lots of bendy fun. The Stacking Fire Engine is a push along toy with a real twist. Kids have to build all the shapes in the right order before they can send the fire engine out to tackle those burning buildings.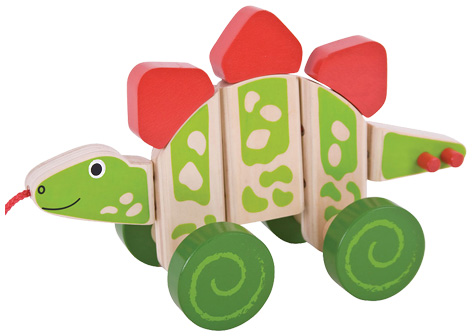 Budding musicians love the sounds they can make with the Tambourine. Designed to encourage a sense of rhythm and an awareness of different sounds, children can shake this toy to their hearts content.
Stacking games are the perfect way to encourage co-ordination and dexterity, and the Stack A Stick Game is one of the best. Featuring a wooden begging dog character, kids take it in turns to place a coloured stick on the dogís head. If they knock down some of the other players sticks, they pick them up and start again. The winner has no sticks left!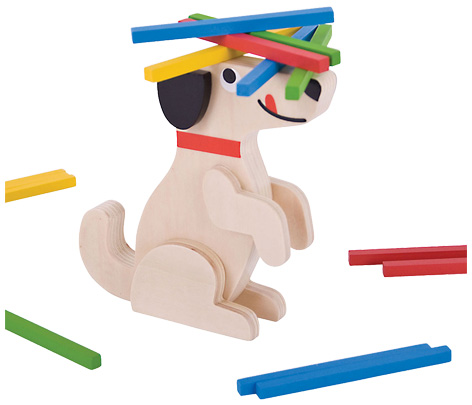 Bigjigs sell a fantastic selection of wooden toys featuring train sets, puzzles and games as well as role play toys. They also sell childrenís wooden tables and chairs, outdoor sand and water play sets plus a terrific range of arts & crafts sets.