Boxset
(1 review)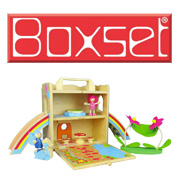 The clever designers at Casdon have worked overtime to create a terrific range of Boxset wooden toys. These ingenious portable playsets literally come in a wooden box that can be unfolded for instant playtime fun. With ten different themes to choose from, kids are spoilt for choice.
Boys will undoubtedly love the castle and pirate themes, whilst little girls may opt for the fairy dolls house or the make-up vanity set. Budding farmers head straight for the farm Boxset that comes complete with three wooden farm animals, two farm workers and a selection of other buildings. The workbench set comes with tools like a screwdriver, hammer and spanner whilst the kitchen set is supplied with a variety of utensils and pans for the pretend cooker.
These perfect role play sets each have a neat carrying handle and all the pieces can be safely stored inside the box when not in use. Designed to stimulate little children's imaginations and co-operative play, these stylish sets also offer great value for money.
RECOMMENDED RETAILERS

Amazon
The world's most famous online retailer sells an unparalleled selection of toys.
Buy the Boxset now >>