Sweet Dreams with Squidge Bugbie
No customer reviews yet. Be the first.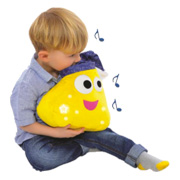 Sweet Dreams with Squidge Bugbie makes the perfect bedtime companion for little fans of the adorable CBeebies Bugbies which grace the TVs of youngsters up and down the land.
This interactive plush comes with a soothing, in-built lullaby that can be activiated by gently squeezing his tummy. Better still, when it's "lights out" time he glows in lots of different colours, helping to calm and relaxe even the most energetic of children.
Fans might also like to check out other products in the range such as the Chatty Bugbies, Toppling Bugbies game and the Pick 'n' Place Sorting Puzzle.
RECOMMENDED RETAILERS

Amazon
The world's most famous online retailer sells an unparalleled selection of toys.
Buy Sweet Dreams with Squidge Bugbie now >>