Chitter Chatters
No customer reviews yet. Be the first.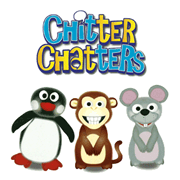 Following straight on from their success with Annoying Monsters, Mint Toys launched Chitter Chatters at the 2012 London Toy Fair. These cute little creatures are stuffed full of some very clever electronics, and annoyingly, repeat everything you say to them! With no buttons to press, this reaction is completely automatic, and will keep you amused (or infuriated) for hours on end.
Three different characters are in the Chitter Chatters range. Ttake your pick from a black and white penguin, brown monkey or a grey and pink bunny rabbit. Kids and adults love them! These things are as much at home sitting on a bedside table as they are on an executive's desk. Not only do they transform the speaker's voice into a squeaky copy, Chitter Chatters also shake their heads as they talk. Hilarious fun!
RECOMMENDED RETAILERS

Amazon
The world's most famous online retailer sells an unparalleled selection of toys.
Buy Chitter Chatters now >>