DigiBirds & DigiChicks
No customer reviews yet. Be the first.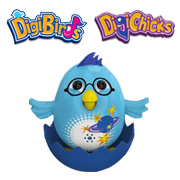 The increasing popularity of virtual pets has led world renowned toy company Silverlit to create the incredible range of DigiBirds. Distributed by Flying Toys in the UK, each bird is programmed to adopt movements such as beak and head actions following a whistled instruction from the user. A choice of several colour combinations lets owners build a flock of birds with different looks and tunes.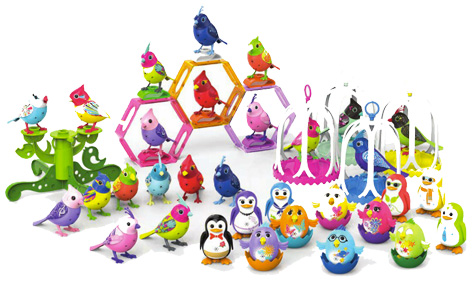 There's a selection of twenty four pre-programmed songs and melodies to choose from, whilst several DigiBirds can be operated together to create an amazing dawn chorus. These interactive digital pets are supplied complete with batteries and a ring so that the birds can be attached to a finger.
Adding to the collection, Silverlit introduced DigiChicks. These goregeous little tweeting and chirping birds are each safely nestled in their half egg shell and interact with each other to make a raucous but tuneful noise! Fans of these cute little collectable characters are also thrilled to hear that DigiPenguins are becoming available. There's no stopping the popularity of all the creatures in the Digi collections.
RECOMMENDED RETAILERS

Amazon
The world's most famous online retailer sells an unparalleled selection of toys.
Buy DigiBirds & DigiChicks now >>