Dennis The Menace Farting Football
No customer reviews yet. Be the first.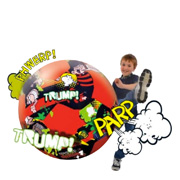 Whilst Dennis The Menace first appeared in the Beano comic in 1938, he's as popular as ever in the 21st century. Golden Bear hold a licence to make toys based on this lovable rogue, with the mischievous Farting Football proving to be a big hit with his millions of fans.
Based on the principle of the ever popular 'whoopee cushion', this toy makes a slightly different 'parp' sound every time it's thrown or kicked around a garden. Little boys think it's hilarious of course, whilst their little sisters may not be quite so impressed!
Use Dennis The Menace Farting Football inside the home or out in the garden for incredible side-splitting shrieks of laughter. Lovers of Dennis may also be interested in other Golden Bear products. These include a Prankster Kit, Pull My Finger Keyring and Dennis Bashing Buddy that's a soft toy version of Dennis himself complete with six cool sounds.
RECOMMENDED RETAILERS

Amazon
The world's most famous online retailer sells an unparalleled selection of toys.
Buy the Dennis The Menace Farting Football now >>