Fropper Bikes
No customer reviews yet. Be the first.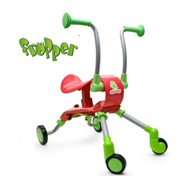 Fropper is an innovative, ride-on bouncing toy for toddlers aged between 18 months and 4 years old. Produced by Okiedog and featuring a 2-level spring seat for loads of bouncing fun, the colourful Fropper bike provides hours of fun as toddlers try to immitate a frog with a series or bounces and hops.
The Fropper ride-on toy is popular amongst parents for it's safety features and ability to fold up very small. The product is lightweight, requires no assembly and comes with non-abrasive caster wheels that make virtually no noise.
Fropper is suitable for kids up to 55 pounds and comes with a wide wheel base for maximum stability. A built-in grip ensures that it can be carried around easily, and an optional parent handle can be bought as an added extra if required.
RECOMMENDED RETAILERS

Amazon
The world's most famous online retailer sells an unparalleled selection of toys.
Buy the Fropper now >>