GoldieBlox and the Spinning Machine
No customer reviews yet. Be the first.
In conjunction with our friends at Interplay, we're delighted to be giving away a GoldieBlox and the Spinning Machine toy to four lucky winners in an exclusive competition launching soon. Join our newsletter to be informed of this competition's launch.
GoldieBlox is a range of groundbreaking story-based construction kits that are distributed in the UK by Interplay, a company that is renowned for their excellent range of educational and creative toys.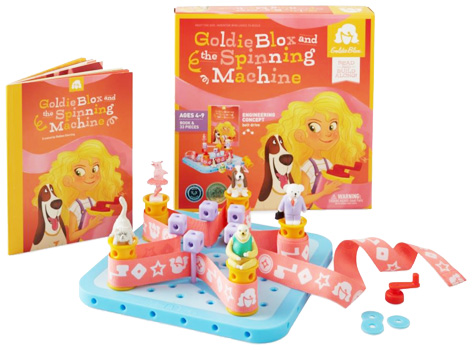 Each GoldieBlox product contains a construction set and a storybook. The star of the show is Goldie, a girl inventor who just loves to build. As children read about Goldie's adventures, they are encouraged to pick up the construction toy and join her in problem solving to build one of her incredible inventions.
The first product in the series is GoldieBlox and the Spinning Machine which sees Goldie attempt to build a spinning machine that can help her dog, Nacho, chase his tail. As the adventure unfolds, children can use the toy to create a belt drive that is capable of spinning all the characters around!
As well as being great fun and educational, the range of products are designed to challenge traditional gender stereotypes and to enourage young girls into thinking that they too can keep up with the boys when it comes to construction.
RECOMMENDED RETAILERS

Amazon
The world's most famous online retailer sells an unparalleled selection of toys.
Buy the GoldieBlox and the Spinning Machine now >>