IngoKid Tablet from Ingo Devices
No customer reviews yet. Be the first.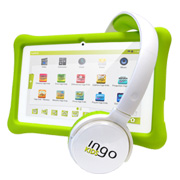 The IngoKid Touch Tablet from Ingo Devices is perfectly configured with a 7-inch screen for little fingers and hands, plus a front and rear camera that allows children to takes snaps of their friends and family whenever they want to. Parents will be relieved to know they can control all aspects of the online content that can be downloaded through the control software.
Firmly aimed at preschool children and running the Android operating system, apps, games, songs, films and books can all be downloaded from the Google Play Store. The 1.2GHz processor is backed up with 4GB of online storage, and a micro SD card slot supplements this capacity if needed.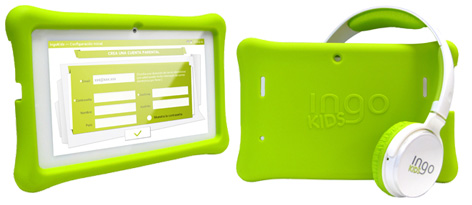 Wi-Fi and two USB ports complete the outstanding specifications of this kids tablet market contender. Accessories for the IngoKids Touch Tablet include various designs of storage bags featuring popular characters like Hello Kitty and Monster High, as well as headphones and stylus pens.