Jelly Fun Slush Maker
No customer reviews yet. Be the first.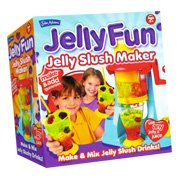 We've seen slush makers and jelly sets from several different toy suppliers, but John Adams cleverly combines the two products into the Jelly Fun Jelly Slush Maker Set! Easy for children to use, they simply make jelly in the usual way and then add each colour or flavour to the specially designed carousel unit on top of the machine. By rotating the handle at the side, a colourful slushy mixture emerges into the waiting glass.
Add fruit juice and different flavoured jellies to create some amazing and tasteful colour combinations. Suitable for children aged 5 and over, the Jelly Fun Jelly Slush Maker Set perfectly complements other John Adams food creations sets like the Golden Coin Maker or Chocolate Lolly Maker. The set comes complete with a jelly cube cutter, sweet mould tray, straw spoons and three plastic glasses with different coloured bases.
RECOMMENDED RETAILERS

Amazon
The world's most famous online retailer sells an unparalleled selection of toys.
Buy the Jelly Fun Slush Maker now >>