Kaboinx
No customer reviews yet. Be the first.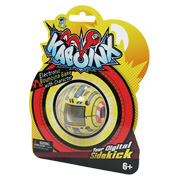 Distributed by the clever people at Sambro who know a winner when they see one, Kaboinx is an addictive electronic bouncing game! An LED screen on the front of the ball shows a character's face which has lights and sounds tailored to its individual personality.
With six different characters to collect, kids can challenge their friends to several different games, or play individual games themselves where they compete against their own previous best scores. Popular games include Bounce A Million where the toy counts all the bounces during each throw!
Various electronic rewards and trophies can also be won by players as they accumulate points. Sometimes described as a 'Tamagotchi style toy within a ball', Kaboinx is also supplied with a mains charger. Other features also include an alarm clock for early morning wake-up calls.