Animated Dancing Plus Oh
No customer reviews yet. Be the first.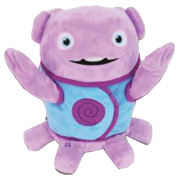 As the undoubted star of the HOME movie, Oh translates into one of the most gorgeous soft toys we have ever seen. Major toys supplier Flair is the master toy licensee and their designers have cleverly captured the spirit and feel of this engaging character.
Oh is a Boov, a member of an alien race that invades Earth to try and escape their enemies. His extra-terrestrial looks are translated perfectly into this purple plush toy. Press a button on his tummy and kids can hear him speak four phrases from the film as well as sing three different songs.
Children also love to watch his feet perform shuffling type dancing movements that try and move in time to the music!
Animated Dancing Plus Oh is suitable for children as young as three, and is part of a larger range of HOME toys that includes small collectable figurines, colour changing figures and the infamous Shusher Wand.
RECOMMENDED RETAILERS

Amazon
The world's most famous online retailer sells an unparalleled selection of toys.
Buy the Animated Dancing Plus Oh now >>