Pig Out!
(1 review)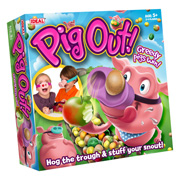 Designed for children aged 3 and upwards, John Adams' Pig Out! game is all about being the greedy pig that wins the food from the oinking trough.
Kids wear the elasticated piggy shaped snouts on the ends of their noses and use them to pick up as much as they can from the piggy trough once they've rolled the 'pig out' side of the dice. It may sound easy, but in-between a little pushing and shoving to get their noses stuck in, all manner of chaos can ensue! The winner needs to just collect four pieces of food - which may sound easier than you think!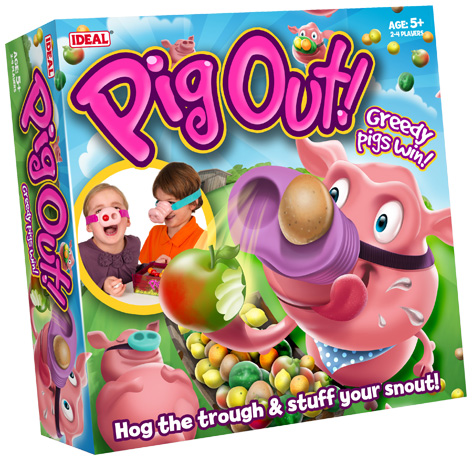 This hilarious game is easy to play and is guaranteed to create fun and mayhem on an epic scale! Suitable for two to four players, the more that play the bigger the greed builds up. Pig Out! joins the John Adams stable of fun and frantic games like Doggie Doo, Silly Moo and Donít Take Busters Bones.
RECOMMENDED RETAILERS

Amazon
The world's most famous online retailer sells an unparalleled selection of toys.
Buy Pig Out! now >>