Pumpaloons
No customer reviews yet. Be the first.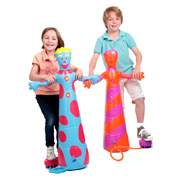 Pumpaloons is a fast-paced, hilarious and energetic game that guarantees all kind of mayhem. The aim of the game is to beat your opponents by pumping up your Pumpaloon faster than them. On the word "Go!" children must dash to their pumps and start puffing up the two clown-like wobblies (called Stripeyloon and Spottyloon) until they are standing firmly upright.
How you pump up your Pumpaloon is all down to you. Some kids like to stomp on the pump with their feet whilst other prefer to get down on the floor and press the pump furiously with their hands. We've even seen some crazy fools sit on the pump and bounce up and down as fast as they can!
Each Pumpaloon grows to three feet tall, although you haven't won the game until yours lets out a victory squeak to show that it's fully inflated.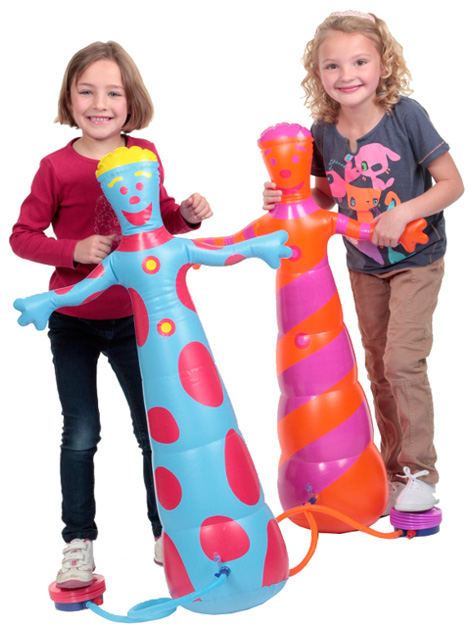 Pumpaloons is suitable for kids aged 4 years and over - and is great for when friends come round. Although it's a lot of fun for two players it bcomes even more exciting when you split into teams and take turns competing in relays. What's also good about this game is that each deflated Pumpaloon doesn't take up too much space, meaning they can even be taken on holiday.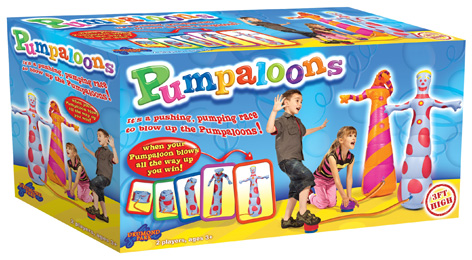 RECOMMENDED RETAILERS

Amazon
The world's most famous online retailer sells an unparalleled selection of toys.
Buy Pumpaloons now >>