Puppy Surprise Toys
No customer reviews yet. Be the first.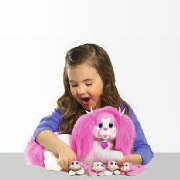 First created in the early 1990s, Flair re-launched collectable Puppy Surprise plush dogs to a whole new generation of little girls at the end of 2014. The gorgeous mummy dogs have appealing names like Zoey, Popcorn, Sugar or Gigi the Dalmation. Each dog has a really soft body and children can comb the long tails and ears into several different styles.
As before, the 'surprise' bit of every purchase is that each doggie has a different number of baby puppies in her tummy! How many will you get? It could be 3, 4 or in special packs it could even be 5! Watch out for Kitty Surprise plush cats as well. Using the same formula, all of these lovable pussy cats have a different number of kittens in each pack.