Roaring Raa Raa
No customer reviews yet. Be the first.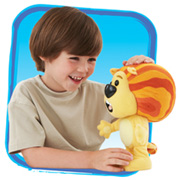 Raa Raa the Noisy Lion is the star of the popular CBeebies show that first aired in May 2011. Major toy manufacturer, Tomy, is producing many of the toys accompanying the show including playsets, preschool products and a superb talking (or should we say "roaring"?) plush toy.
Set in Jingly Jangly Jungle, Raa Raa the Noisy Lion roars loudly when he forgets what he wants to say - and that's the inspiration for this soft toy. Images of the roaring plush suggest a cute soft lion, but with a cleverly concealed 'voice box' hidden inside that gives Raa Raa give a incredibly loud roar!
This Roaring Raa Raa plush toy has also been joined by some of his jungle friends including Ooo Ooo and Huffty.
RECOMMENDED RETAILERS

Amazon
The world's most famous online retailer sells an unparalleled selection of toys.
Buy Roaring Raa Raa now >>