Family Rapidough
(1 review)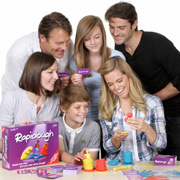 Game and modelling fans will already know all about Rapidough, the innovative and hugely popular team game of modelling charades. After a facelift in the form of New Family Rapidough, it's the ideal way to get all generations playing together!
The game can be played in 2 or 3 teams and is cleverly designed to get the whole family's creative juices flowing! Each team choses a designated modeller for that round, and one of them takes a card from the supplied pack and shows it to the modellers of the competitive teams. Someone shouts "Go!" and they all attempt to explain to their teammates what the word is through the power of modelling!
Hand or face gestures are strictly out of bounds and modellers are only allowed to say "yes" or "no" to the suggestions that their teammates frantically shout out! The first team to identify what has been modelled correctly wins that round. A sting in the tail comes in the form of the losing team having one piece of dough taken away from them. The result? if your team loses too many times on the trot, you'll be stuck there trying to sculpt something elaborate from a teeny tiny, pea-sized piece of dough!
Obviously the winning team is the one who has the most dough left when other teams run out of clay and can no longer play. Each player takes their turn to be the modeller, and everyone gets to shout out guesses in each round. This ensure that there's no sitting around doing nothing while you wait for your turn in the spotlight!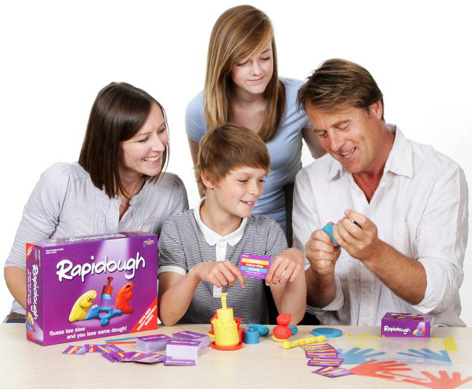 Before you start playing New Family Rapidough, you're invited to choose between levels of play. The white cards are for experienced or grown-up modellers whilst the blue deck is designed for younger or notice players. Included in the box are different coloured doughs, dough mats, modelling tools, dough pluggers and game-cards.
RECOMMENDED RETAILERS

Amazon
The world's most famous online retailer sells an unparalleled selection of toys.
Buy Family Rapidough now >>