The Top Gear Stig Bullit Scooter
No customer reviews yet. Be the first.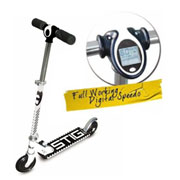 "Some say the Stig drives a coupe... they lied!" is the slogan for the launch of the Stig Bullit Inline scooter from Zinc Hy-Pro. Finished in the classic Stig white with smart black graphics, this scooter features an amazing built in digital speedometer that is sure to be a hit with young fans of Top Gear!
Different programmes allow children to record their fastest distances travelled, and even their maximum speed. Set up a lap around the local play area, and race your friends on their customised Stig Bullit scooters. The speed can be monitored in both miles per hour or kilometres per hour, and with its clever folding action, the Stig scooter can be safely stored in the smallest of spaces.
RECOMMENDED RETAILERS

Amazon
The world's most famous online retailer sells an unparalleled selection of toys.
Buy the Top Gear Bullit Scooter now >>