Ultimate Fighting Trashies
(1 review)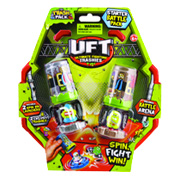 The Trash Pack phenomenon shows no sign of abating with the launch of the Ultimate Fighting Trashies. The weirdly named Trashies characters such as Wasted Banana, Soggy Tomato and Slimey Salami take on a new twist in the fighting version.
Ultimate Fighting Trashies are placed on a special base. Kids place the lid over the Trashie, wind up the mechanism and get ready to do battle! Once removed, the circular disk with the Trashie firmly fixed to it flies around all over the table, floor or other flat area.

This fun-filled toy takes The Trash Pack to a new play dimension. Itís easy to visualise Scummy Skull, Dead Tyre and Chicky Pox fighting their way around homes all over the UK!
RECOMMENDED RETAILERS

Amazon
The world's most famous online retailer sells an unparalleled selection of toys.
Buy the Ultimate Fighting Trashies now >>

Argos
The original catalogue shop now sells a huge range of toys at great prices.
Buy the Ultimate Fighting Trashies now >>