VX Shark Micro Scooter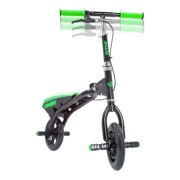 Taking micro scooters to the next level is the VX Shark Micro Scooter from master toy maker Vivid Imaginations. Featuring an easy folding action it can be ridden in any one of six different ways – known as the side ride, the cross over, the kneelie, the tight rope and the scoot. Its rear mounted foot pegs and low slung platform seat makes the VX Shark stand out in a crowd!
Also featuring a rear brake and adjustable height handlebars, as well as finished in black with green accessories and neon styling, the VX Shark Micro Scooter can be seen speeding along the pavements and around the parks, all over the UK.
RECOMMENDED RETAILERS

Amazon
The world's most famous online retailer sells an unparalleled selection of toys.
Buy the VX Shark Micro Scooter now >>