Whizzpopping BFG
No customer reviews yet. Be the first.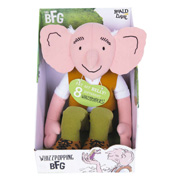 As part of a wider range of soft toys inspired by some of Roald Dahl's most popular characters including Matilda and Willy Wonka, the launch of Whizzpopping BFG was carefully planned to coincide with The BFG film directed by Steven Spielberg.
This charming plush toy is faithful to Quentin Blake's inimitable illustrative style, and comes with 8 in-built "wizzpoppers" which you can access by patting his belly!