Zibits 2.0 - Zibit Robots
(1 review)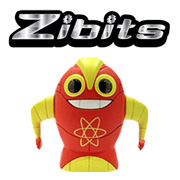 Zibits are a hand-held robot revolution from Flair. Each Zibit comes with great light and sound effects, is highly manoeuvrable, can spin 360 degrees, race around cones, over ramps or even play mini football! Zibits really are the bots to beat!
With the initial range launched in 2010, children could choose between twelve great Zibits robots: Go-B, Dex, Gunk, Spex, Alpha 7, Dinc, Scrapz, Sproc, Clunk, Gek, Shoz and Tank. These were split between four colour schemes in three different styles known as Tech Bots, Junk Bots and Urban Bots.
Each robotic character came with three accessories – two cones and a ball enabling their owners to challenge their friends to penalty shootouts! A number of additional accessory sets put the Zibits to work:
• The Zorr Mine Shaft requires your Zibit to move crystals from lift, to chute, to mine cart
• The Z Crane sees your Zibit lifting "heavy" objects from one place to the other
• The Zibit Power Lab Playset provides even more challenges for the bots to master
• The Z-Rail Track Set enables you to attach one set to another to create a Zibit world



Announced at the New York Toy Fair in February 2011 are Zibits 2.0. These mini bots feature another twelve stunning looking robots with names like this:
Code (Communications expert)
Reverb (Sound specialist)
Galex-Z (Outerspace exploration)
Torrant (Professional thief)
Hyjax (Repair bit)
Surge (Explosives expert)
Tetron (Sea military specialist)
Mitro (Biologist)
Nebulis (Combat trainer)
Cozmo (Military inventor)
As well as the new bots, the Zibits 2.0 range features a number of brand new accessories:
• The Zibits Action Defence playset comes with a whole host of accessories like ramps, sludge monsters and a Zibits Defence Drone.
• The Battle Fortress takes your Zibits to the top of the lift so that you can get access to a powerful missile launcher. This enables your robots to take out any enemies before making a fast escape into the Zibits portal.
• The Zibits ZX-34 is an all-action Zibit that can launch missiles called power orbs at the enemy! Best of all, ZX-34 even has a built in vacuum function to suck up the used orbs and fire them again and again!
RECOMMENDED RETAILERS

Amazon
The world's most famous online retailer sells an unparalleled selection of toys.
Buy the Zibits now >>