Zinc Venom Scooter
(1 review)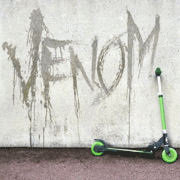 Zinc is a brand name from Hy-Pro which features on a range of radically designed bikes, scooters and skateboards. One of their showcase products is the Zinc Venom Scooter - a smart looking street scooter with a brilliantly concealed water-blasting canon that is contained within the scooter itself.
Whilst the Zinc Venom Scooter may not quite live up to its hype of having a truly revolutionary design that is "unrestrained by style guide", there is no doubt that the extra play features offer an interesting addition to the traditional children's scooter.
Venom's water blaster is totally concealed and cleverly powered by the scooters own movement. It has a firing angle of 180 degrees and supposedly has a range of over 20ft (although don't hold your breath!)
The Zinc Venom Scooter is a popular product with kids aged 6 years and older. Parents are likely to be fans of this scooter too - as it folds up extra small for easy storage and transport. You should also look out for two related products: Zinc Jr and Zinc Pro.
The Zinc Venom Scooter measures 66 cm x 33 cm x 15 cm when folded and requires minimal assembly. Materials used in the scooters production are plastic, PVC and metal.
RECOMMENDED RETAILERS

Amazon
The world's most famous online retailer sells an unparalleled selection of toys.
Buy the Zinc Venom Scooter now >>