Banchory Toy Shops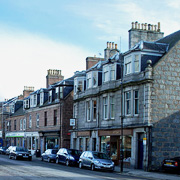 Surrounded by hills and beautiful countryside, Banchory in Aberdeenshire is the perfect place for visitors to start exploring the area known as Royal Deeside. The local shops include two toy shops, the major one being The Banchory Toy Shop in High Street. It serves the local area very well with its selection of dolls houses, pocket-money toys and other gifts. It is also a an official Brookite stockist so it is a good shop to visit if you're looking for outdoor toys too.
The Nano Toy Shop is located in Selina Cottage, also in the High Street, and has a small selection of toys and gifts for younger children. If you know of any more Banchory toy shops (or shops selling gifts, gadgets or children's clothing) don't hesitate to let us know.
OTHER RETAILERS
Banchory Toy Shop

29 High Street, Banchory, Aberdeenshire, AB31 5TD
01330 825586
Nano Toy Shop Ltd.

Selina Cottage, High Street, Banchory, Aberdeenshire, AB31 5SS
01330 538084