Safe Dreams
No customer reviews yet. Be the first.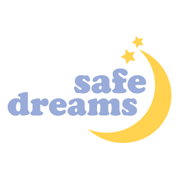 Address
30A, The Holdings, Balmedie, Aberdeenshire, AB23 8WU
Telephone
01358 878198
Contact
Send an email to Safe Dreams now >>
About
Safe Dreams from Aberdeenshire is a manufacturer and online seller of Safebreathe Hoppy and Patch soft toys, a cuddly duo which make an ideal gift for a new baby. They are lovable, cuddly and created with safety in mind. Hoppy and Patch are made with 3D airmesh with a surface of beautifully soft cotton.
For added breathability, the toys are stuffed with Hollowfibre. Each fibre is pumped with air during the manufacturing process. The toys have been carefully designed and extensively tested to ensure that there are no loose parts which could pose a threat to babies. The toys are ideal for children at risk of developing asthma and allergies, as they have been allergy tested by Airmid Health Group, a leading worldwide allergy specialist.
They are not only fully machine washable, but can also be safely tumble dried. This makes them easy to keep dust free. This Aberdeenshire soft toy manufacturer and retailer launched the first two toys in their range in August 2012, with an ongoing programme of new and exciting products launches.
Safe Dreams is an Aberdeenshire toy shop that specialises in soft toys.