Peterborough Toy Shops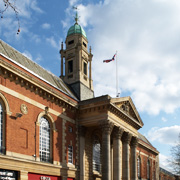 The cathedral city of Peterborough is based in beautiful Cambridgeshire, and is in the middle of a regeneration programme that will complete in 2012. Peterborough toy shops are spread throughout the city which has the benefit of three shopping centres of Queensgate, Hereward Cross and Rivergate as well as the City Market.
Some interesting independent toy and model shops enable shoppers in Cambridge to have a great choice of places to buy their games, puzzles, hobbies, dolls and toys. As well as the usual multiple stores selling a few toys, shops such as Toymaster Kingdom, Trains 4 U, Peterborough Model Centre and Geoff Stubbs model shop all help to make the Peterborough toy shops appealing places to visit. Several internet traders are based in Peterborough including Play Merrily Toys selling a great range of toys and dolls.
POPULAR RETAILERS
28-29 Maxwell Road, Peterborough, Cambridgeshire, PE2 7JE
01733 396585
Workspace House, 28-29 Maxwell Road, Peterborough, Cambridgeshire, PE2 7JE
01733 396585
Kings Cliffe, Peterborough, Cambridgeshire, PE8 6YJ
0560 230 8849
OTHER RETAILERS
Gamestation

11 Fitzroy Street, Cambridge, Cambridgeshire, CB1 1ER
01223 352496‎
Geoff Stubbs

86 West Street, Peterborough, Cambridgeshire, PE8 4EF
01832 273866
Peterborough Model Centre

60 South View Road, Peterborough, Cambridgeshire, PE4 6AG
Toymaster Kingdom

19 Westgate Street, Peterborough, Cambridegeshire, PE1 1PZ
01733 898007
Trains 4 U

20 St.Davids Square, Fengate, Peterborough, Cambrideshire, PE1 5QA
01733 895989