Wadebridge Toy Shops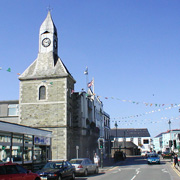 This charming small town in North Cornwall is home to a few independent toy companies including Cock A Doodle Do. This is a quirky little shop selling toys and gifts. Bricknells in the pedestrianised Molesworth Street is part of the Toymaster Group of specialist toy shops. These are two of many independent shops in the town which have helped to retain the character of Wadebridge.
Bricknells in particular, is a true Aladdin's cave of toys and gifts that caters for all age ranges and budgets. Walking into the shop you will discover a friendly, family business that sells a good selection of stationery, cards, toys and nursery goods. If you're prepared to look slightly further afield, Wadebridge isn't too far from Padstow or Newquay which both offer more toy shopping opportunities.
POPULAR RETAILERS
11 Molesworth Street, Wadebridge, Cornwall, PL27 7DD
01736 360600
OTHER RETAILERS
Cock A Doodle Do

3 Foundry Street, Wadebridge, Cornwall, PL27 7NW
01208 816849