Barnstaple Toy Shops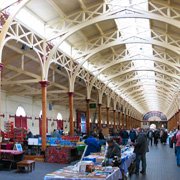 Barnstaple is the main shopping area for North Devon - and the retail sector contributes greatly to the local economy. The city has a large number of High Street chain stores which are generally situated in the town centre and at the Roundswell Business Park which is just on the edge of the city.
There are a number of independent toy shops in Barnstaple - some of which you can see below. This includes North Devon Activity Toys in Bickington, and The Toy Box - an independent Barnstaple toy shop located in Boutport Street.
POPULAR RETAILERS
65 High Street, Barnstaple, Devon, EX31 1HX
01271 323031
OTHER RETAILERS
A Little Something

42 Bear Street, Barnstaple, Devon, EX32 7DB
01271 323 233‎
Gamestation

30 High Street, Barnstaple, Devon, EX31 1BL
01271 371672‎
North Devon Activity Toys

Combrew Farm, Combrew Lane, Bickington, Barnstaple, Devon, EX31 2ND
01271 345888
The Toy Box

72 Boutport Street, Barnstaple, Devon, EX31 1SR
01271 377386‎