Ilfracombe Toy Shops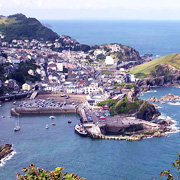 This hilly seaside resort on the north coast of Devon has survived the influx of major chain stores very well and is home to several independent Ilfracombe toy shops. Although you can find many of the usual 'big name' supermarkets here, Ilfracombe still has a thriving High Street that has maintained its character and charm thanks to the many local, independent retailers such as The Toy Cupboard. This Ilfracombe toy shop serves the local community very well with it's wide selection of games, puzzles and toys.
Ilfracombe is also home to one of the most famous puppet companies in the world: Pelham Puppets. This newly-revived company now only sells online as the High Street shop has closed. The Kiddie Shop in Princess Avenue is worth a visit for a small selection of low priced toys and novelties.
OTHER RETAILERS
KiddieShop

80 Princess Avenue, Ilfracombe, Devon, EX34 9LW
0845 156 8950‎
The Toy Cupboard

128 High Street, Ilfracombe, Devon, EX34 9EY
01271 863598