Toby Wagons
No customer reviews yet. Be the first.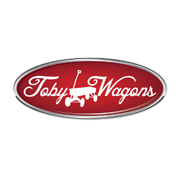 Address
32 Havengore, Chelmsford, Essex, CM1 6JR
Telephone
07507 510921
Website
https:www.tobywagons.co.uk
About
Toby Wagons is an online toy shop based in Chelmsford, Essex. They sell the old style American pull along wagon in two different types - the classic style and the all terrain style. These are incredibly hard-wearing products that are designed to last a lifetime.
The Classic wagon has a 32" x 3'5" bed that is ideal for hauling items around the home, beach or park. The All Terrain wagon has the same dimensions but features natural wooden stake sides to increase the carrying capacity along with real air tyres that provide a super soft and quiet ride.
The Toby Wagon is a treasured part of American childhood, almost on a par with the hot dog and the peanut butter & jelly sandwich. UK youngsters can discover the thrilling independence and promise of adventure that has captivated kids in America for generations. Toby Wagons can be ordered online from this Chelmsford toy shop with delivery by courier normally within three working days.
Toby Wagons is a Chelmsford toy shop that specialises in bikes & rides.
---
Additional facilities
---
Payment methods