Dunbartonshire Toy Shops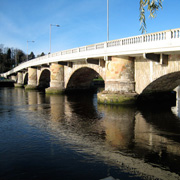 Sometimes spelt as Dumbartonshire, The Scottish county of Dunbartonshire is one of the smallest regional areas in the whole of Scotland. The local population is mainly centred in the larger towns of Balloch, Clydebank, Helensburgh and Kirkintilloch. Toy shops are scarce although several stand out as great examples of independent retailing.
Loch Lomond News in Balloch has a great reputation as a major retailer of collectable toy themes such as mini figures, trading cards and stickers. They also sell a huge selection of newspapers and magazines. Not far away, Grasshopper Toys and The Toy Shop are both located in Helensburgh and have similar ranges of games, puzzles, dolls, action figures and pocket money toys.
POPULAR RETAILERS
Unit 3A1, Loch Lomond Shores, Ben Lomond Way, Balloch, Dunbartonshire, G83 8QL
01389 756966
OTHER RETAILERS
Grasshopper Toys

112 West Princes Street, Helensburgh, Dunbartonshire, G84 8XD
01436 670806
The Toy Shop

90 West Clyde Street, Helensburgh, Dumbartonshire, G84 8BB
01436 677500