Pollock's Pop-Up Toy Shop
No customer reviews yet. Be the first.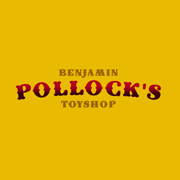 Address
23 The High Street, Hastings, East Sussex, TN35 3EY
Telephone
01424 442674
Contact
Send an email to Pollock's Pop-Up Toy Shop now >>
About
Situated in Hastings, Pollock's Pop-Up Shop is a branch of the famous Benjamin Pollock's Toy Shop of Covent Garden, London. Pollock's has been around since Victorian times and specialises in selling paper toy theatres that are still popular as a craft and role play activity for children.
As well as selling wooden, paper and pocket money toys, Pollock's also stocks puppets, party gifts and classic toys such as jack-in-boxes, spinning tops and music boxes. The retailer has even updated the traditional toy theatre into a iPad app that provides children with an immediate theatre to play with without the cutting and sticking! Pollock's has a selection of these items listed on their website that can be purchased in the shop or online.
As purveyors of very traditional, classic and nostalgic toys, Pollock's Pop-Up Shop in Hastings appeals to adults as well as children. Part owner Peter Baldwin, an actor, has the largest collection of paper theatres in the UK and is a member of the Puppet & Model Theatre Guild.
Pollock's Pop-Up Toy Shop is a Hastings toy shop that specialises in arts & crafts.