The Entertainer Toy Shop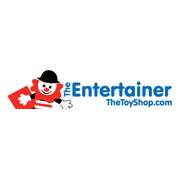 Head Office Address
Boughton Business Park, Bell Lane, Little Chalfont, Amersham, HP6 6GL
Website
www.thetoyshop.com
About
Founded by Gary and Catherine Grant in 1981, The Entertainer is the largest independent retailer of toys in the UK. It has a diverse audience and a product range that appeals to children of all ages.
Big name brands include Ben 10, Bakugan, Crayola, Club Penguin, Lego, Little Tikes and Mega Bloks. They also sell Moshi Monsters, Playmobil, Plum Products, Star Wars and Sylvanian Families, as well as Transformers, VTech and Zoobles; perfect for both children and collectors alike.
The values held by The Entertainer are represented in a list of six guiding principles known as "The Entertainer Way". The strong Christian foundation of the company has caused it to shun Sunday opening and to refuse to stock several popular items which it deems unacceptable. This includes Harry Potter which it felt could attract children towards the occult.
The Entertainer has won three top prizes at the prestigious Toy Industry Awards. They have been crowned Best Multiple Retailer, Best Online Retailer and - the ceremony's top prize - Best Overall Toy Retailer in the UK and Ireland.
The company continues to be "Mad About Toys" and strives to offer great value toys and games, for girls and boys of all ages. They also offer a 'Click and Collect' service online at TheToyShop.com (formerly TheEntertainer.com) which is open for business 24/7. They also operate in excess of 80 traditional bricks-and-mortar stores in the UK.
The head office of The Entertainer Toy Shop is located in Amersham.