Hamleys Toy Shop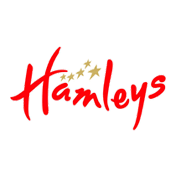 Head Office Address
188-196 Regent Street, London, W1B 5BT
Website
www.hamleys.com
About
As one of London's most magical experiences, Hamleys Toy Shop on Regent Street is not only a great store - it's also a popular tourist attraction that gets an estimated five million visitors every year!
This 7-storey shop is one of the largest toy stores anywhere in the world - and Hamleys also has an impressive online presence with an unrivalled selection of toys that it refers to as "the finest in the world". By offering every kind of toy imaginable, the Hamleys website enables customers to take advantage of generous discounts on popular lines and access to their own-brand toys.
The Hamleys website is clearly laid out with categories including arts & crafts, dolls, games, preschool toys, soft toys and construction. As customers would expect, almost every toy currently made is on sale in Hamleys, and there's always special offers on an ever-changing selection of toys and gifts. If customers can't experience the physical stores for themselves, purchasing via the website is quick and easy, with a range of payment options.
Hamleys also has a 32,000 square-foot concept toy shop in Dubai, which is a mini-replica of their most famous Regent Street store. This Dubai store runs daily magic shows, face-painting and toy demonstrations. Other UK stores are situated in Glasgow and Dublin, with worldwide stores in Amman plus Mumbai and Chennai in India. Concession stores also operate in Heathrow, Gatwick and Stansted airports, as well as in Denmark, and Jordan in the Middle East.
The head office of Hamleys Toy Shop is located in London.