Trunki Shop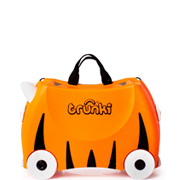 Head Office Address
Shaftesbury Chapel, Union Road, Bristol, BS2 0LP
Website
www.trunki.com
About
Mention the name Trunki, and most people will immediately conjure up an image of those famous kids mini suitcases on wheels - yet there's far more to this innovative company than just a single product.
After their well-documented investment refusal on Dragons' Den in 2006, this Bristol-based company has gone from strength to strength with a series of children's travel products that are the result of some pretty amazing blue sky thinking.
Whilst the company's official name is Magmatic, Trunki was the world's first, ride-on, pull-along suitcase - and with its numerous different models and associated accessories, the product has been a global phenomenon. Pink, blue, red, orange and green versions are all available to buy from the Trunki website, and with free delivery over a low minimum order value, there's no easier way to buy your Trunki products.
R&D is an important part of Trunki's business and their teams of designers are constantly coming up with new kids travel or storage solutions. For example, there's the Trunki ToyBox with a clever reversible wheeled lid and BoostApak which is an innovative booster seat with a built in backpack when out of the car. SnooziHedz is a 3-in-1 friend, blanket and pillow for long journeys, whilst the cleverly designed Yondi Head Support helps to support those little necks on long trips.
The head office of Trunki Shop is located in Bristol.