Gloucester Toy Shops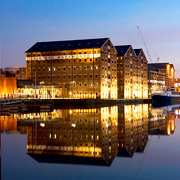 The Kings Walk and The Mall shopping centres are located in the centre of Gloucester, the county town of Gloucestershire. Whilst there were no toy shops in 48 AD when the town was founded by the Romans, that has all changed now.
Gloucester's toy shops are split between the offerings from the multiple retailers, and those of the interesting and niche independent shops. An Early Learning Centre and a Games Workshop store are situated in the town, and appealing individual toy shops such as R Games and Spoilt Rotten ensure that Gloucester's toy shoppers can buy almost any toys, games, models or puzzles that are available.
POPULAR RETAILERS
26 Westgate Street, Gloucester, GL1 2NG
01275 848895
St.Oswalds Park, Gloucester, Gloucestershire, GL1 2SR
01452 397410
8 Astridge Road, Witcombe, Gloucester, Gloucestershire, GL3 4SY
01452 864213
OTHER RETAILERS
Antics Model Toys

79 Northgate Street, Gloucester, Gloucestershire, GL1 2AG
01452 410693
Gamestation

50 Winchcombe Street, Cheltenham, Gloucestershire, GL52 2ND
01242 530472‎
R Games

52 Westgate Street, Gloucester, Gloucestershire, GL1 2NF
01452 386222
Spoilt Rotten

4 Eastgate Market, Gloucester, Gloucestershire, GL1 1PL
01452 522332