Folkestone Toy Shops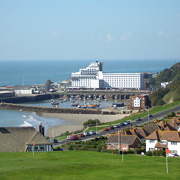 Folkestone is perhaps best known for connecting the UK with France via the Channel Tunnel, although traditionally it was widely regarded as a popular tourist resort due to its location on the south coast of Kent. Generally speaking, the town is a good shopping destination.
The Bouverie Place shopping centre houses many multiple retailers, with a good selection of interesting independent toy retailers based in and around the town. These include The Toyden on Park Farm Industrial Estate. Popular toy supplier Bigjigs Toys are based in Folkestone, and distribute their products all over Europe. Online only retailer Little Wooden Wonders are in Penfold Road, and offers their customers a great selection of high quality wooden toys.
POPULAR RETAILERS
Unit D, Kingsmead, Park Farm Industrial Estate, Folkestone, Kent, CT19 5UT
0800 612 0443
Unit H, Kingsmead, West Park Farm Industrial Estate, Folkestone, Kent, CT19 5EU
01303 244666
OTHER RETAILERS
Bigjigs Toys

Unit H, Kingsmead, West Park Farm Industrial Estate, Folkestone, Kent, CT19 5EU
01303 250400
Gamestation

63 Sandgate Road, Folkestone, Kent, CT20 1RY
01303 210 231‎
Tots Toys

53 Wood Avenue, Folkestone, Kent, CT19 6JH
01303 220351