Hinckley Toy Shops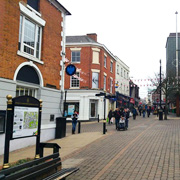 Hinckley in south west Leicestershire has a long tradition of supporting many textile based companies, and in spite of much manufacturing moving abroad, several of them still remain. The Britannia Shopping Centre houses a great mix of multiple retailers as well as cafés and bars - and customers will only have to walk the nearby streets to find some specialist Hinckley toy shops.
Several internet retailers like Dollymania and Kiddymania are based in the town, and through their comprehensive website they send parcels all over the UK. Midland Helicopters and Punctilio Modelspot are two model shops in Hinckley that between them sell a great choice of radio controlled models, toys and construction kits.
FEATURED RETAILERS

Independent toy shop and comprehensive website stocking Brio and Galt products.
Read more about Hubbard's Toy Cupboard >>
POPULAR RETAILERS
Unit 56a, Sparkenhoe Business Centre, Southfield Road, Hinckley, LE10 1UB
08456 444456
OTHER RETAILERS
Fluff Toys Wholesalers

5 Orchard Close, Hinckley, Leicestershire, LE10 3LR
01455 882866
Midland Helicopters

Unit 11, Harrowbrook Industrial Estate, Hinckley, Leicestershire, LE10 3DS
01455 637762
Punctilio Modelspot

41 Regent Street, Hinckley, Leicestershire, LE10 0BA
01455 230952