Grantham Toy Shops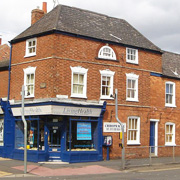 Shoppers in Grantham in Lincolnshire are lucky to have a superb shopping and business centre known as The George. This stunning area manages to successfully mix multiple and independent retailers. The Model Railways Shop in Guildhall Street is a railway enthusiasts dream with a great choice of locos, truck, coaches and track from the top brands.
On the outskirts of Grantham is Outdoor Toy World which has a great display area as well as a comprehensive website. Acting The Party are based in Grantham and supply a unique party entertainment product. Kid Eco are also located in the town - their eco friendly cardboard play houses are a great hit.
FEATURED RETAILERS

Online party shop specialising in providing DIY role play party entertainment.
Read more about Acting the Party >>
POPULAR RETAILERS
Unit 4, Hollis Road, Grantham, Lincolnshire, NG31 7QH
0845 071 0761
10 High Street, Ropsley, Grantham, Lincolnshire, NG33 4BE
01476 585243
OTHER RETAILERS
A Little Star

The George Shopping Centre, Grantham, NG31
01476 576 141‎
Model Railways Shop

5 Bluecourt, Guildhall Street, Grantham, Lincolnshire, NG31 6NJ
01476 563472