Kids Learn Languages
No customer reviews yet. Be the first.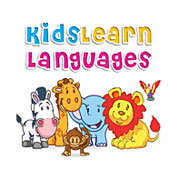 Address
64 Minster Road, London, NW2 3RG
Telephone
0208 262 6979
Contact
Send an email to Kids Learn Languages now >>
About
Kids Learn Languages is based in London and produces unique, educational and stimulating language DVDs and gift sets for young children learning English and new languages.
Children delight with the animated jungle characters, eye-catching visuals, new story adventures, visual games and music. DVD chapters teach numbers, colours and common words associated with food and drink, fruit, playground, clothes, days of the week, expressions, body parts and more.
The teaching method is based on associative learning where children learn by hearing the words and associate them with the visual image on the screen thus enhancing the learning process. Introducing children to languages has huge educational benefits including problem solving, better creativity and overall enhanced school performance. All the products have been created, designed and manufactured in the UK, hence colour sensibility and illustrations are very modern.
The gift sets are an ideal way to introduce a new language to a child in a fun and simple way. Contents include DVDs, a nursery rhymes CD, two hand painted wooden maracas that make a great noise, all packaged in a re-usable cotton backpack bag. Word-of-mouth recommendations and thumbs up from kids and parents from around the globe have ensured their products growth and success.
Customers are invited to visit the Kids Learn Languages website for more information, product previews and free language tools including flashcards. Available in French, Spanish, Hindi, Urdu, Gujarati, Punjabi all combined with English.
Kids Learn Languages is a London toy shop that specialises in educational toys.