Mini Me Gift Box Shop
No customer reviews yet. Be the first.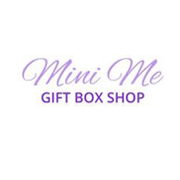 Address
124 Baring Road, London, SE12 0PT
Telephone
07789 647172
Website
mini-me-gift-box-shop.co.uk
About
Mini Me Gift Box shop is an online retailer based in South East London. The business specialises in selling baby gift boxes and new mum gifts. Each gift box contains unique and essential baby gifts for both boys and girls.
A special keepsake is included in most gift boxes for mum. Products include soft toys from brands such as Suki and colourful Lamaze toys for stimulating baby's sense. Each baby gift box is photographed so visitors to the website can see all of the products inside the gift box. Items inside the baby gift boxes are wrapped in tissue paper and all boxes are packed with care.
The gifts can be delivered directly to the new parents along with a special message from the purchaser. Payments from all major credit cards are accepted. The website also features a blog filled with information on baby gifts, new products, and fun activities to do with baby.
Mini Me Gift Box Shop is a London toy shop that specialises in baby & toddler toys.