Ashton-Under-Lyne Toy Shops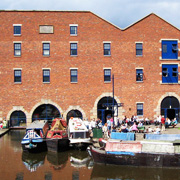 Located on the eastern edge of the Greater Manchester region, Ashton-Under-Lyne is a medium sized town with two large retail areas. Ladysmith Shopping Centre and Snipe Retail Park both have a good variety of multiple retailers with lots of independently owned shops in-between. RC Boys Toys in Poplar Grove offers customers all over the UK a selection of the latest radio controlled models and toys.
Whilst dedicated toy shops are a bit thin on the ground, specialist online retailer known as Sensory Smart Aids UK is based in the town. They sell a great selection of sensory toys to help with children's development at all ages. In Wellington Street, Roundabout Toys is a small shop with an interesting mix of traditional toys and games.
OTHER RETAILERS
RC Boys Toys

10 Poplar Grove, Ashton-Uner-Lyne, Manchester, OL6 8QF
07931 131851
Roandabout Toys

8-12 Wellington Street, Ashton-Uner-Lyne, Manchester, OL6 6AJ
0161 343 2344