War Game Store
(1 review)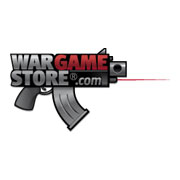 Address
Brimstage Hall Courtyard, Brimstage Road, Brimstage, Wirral, Merseyside, CH63 6JA
Telephone
0151 342 1233
Contact
Send an email to War Game Store now >>
About
Located on the Wirral Peninsula, Merseyside, War Game Store is a specialist model shop selling both fantasy and historical toy soldiers. Fantasy ranges include Games Workshop Warhammer and Warhammer 40,000, Warmachine and Malifaux. War Game Store also offers a wide range of historical miniatures including Ancient Romans, English Civil War, American Civil War and World War II.
The shop is family owned and run and also offers a wide range of hobby accessories including Vallejo and Citadel paint, KR figure cases and Montana Gold spray paint. In addition, the shop sells a wide range of rulebooks and magazines supporting the war gaming hobby and has two full size gaming tables that are freely available for all customers to use.
War Game Store is situated at Brimstage Hall Courtyard which is exactly 1 mile from Junction 4 of the M53 between Chester and Liverpool. Brimstage Hall Courtyard has free parking for over 100 cars and there are a range of other interesting shops in the Courtyard with a choice of shops to keep the whole family occupied.
War Game Store is a Merseyside toy shop that specialises in models.