Wellingborough Toy Shops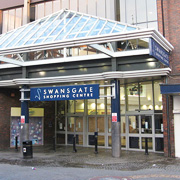 Wellingborough, like most other major towns, has its fair share of multiple retailers. However, itís refreshing to know that several shops in the town have a selection of toys, games and models that cover many fashionable toy categories. Captain Neil's Toy Chest in the High Street sells toys from all the major brands. Customers are invited to touch and feel the toys before purchasing.
They also have a comprehensive website that offers online customers the opportunity to purchase a great selection of toys and games. The Loco Centre in Market Street is a railway modellerís paradise, whilst several nursery and baby equipment retailers (as well as kids cycle shops) are also well represented in this busy market town.
POPULAR RETAILERS
Nene Court, Embankment, Wellingborough, Northamptonshire, NN8 1LD
01933 426365
OTHER RETAILERS
Bankside Bargains

46 Brook Street, Wellingborough, Northamptonshire, NN9 6LP
01933 625677
Brighter Babies Book Baskets

10 Charlbury Close, Wellingborough, Northamptonshire, NN8 2NS
01933 275275
Cozies UK

Swans Gate Centre, Swans Lane, Wellingborough, Northamptonshire, NN8 1EU
01933 275351
My Kid Brother

65 John Lea Way, Wellingborough, Northamptonshire, NN8 2QA
01933 225332
The Loco Centre

21a Market Street, Wellingborough, Northamptonshire, NN8 1AT
01933 770201