Who's Toys
(1 review)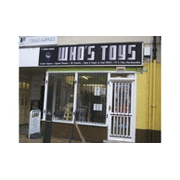 Address
66 Westgate, Mansfield, Nottinghamshire, NG18 1RR
Telephone
07854 903821
Contact
Send an email to Who's Toys now >>
About
Based in Mansfield in Nottinghamshire, Who's Toys is run by John Hadlow, a long time fan of the collectable genre. He feels that a lot of chain stores lack the friendly customer approach and he manages to keep the shop filled with fascinating items that cover a variety of price ranges.
Who's Toys stock is a treasure trove of all things science fiction and film orientated. John manages to offer his customers a wide range of products from pocket money toys, to limited editions that have been especially imported. Many customers travel long distances to experience the store whilst some just come to see the life sized Dalek that sits in the shop window!
Whatever your age or budget, this Mansfield collectable toy shop can get it for you. If they don't have it, then you don't want it! Who's Toys is a fabulous store from beyond the stratosphere!
Who's Toys is a Mansfield toy shop that specialises in collectable toys.