Doncaster Toy Shops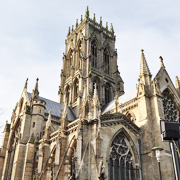 As the only town in South Yorkshire to have been awarded a "Safer Shopping Award", Doncaster is a hugely popular shopping destination with a good selection of independent toy shops. Those looking for 'big-name', High Street stores will be perfectly happy in the Frenchgate Shopping Centre - but if you're looking for a slightly more interesting shopping experience we recommend you explore a bit further afield and see what else the town has to offer.
Model enthusiasts should check out TAG's Modelshop. They sell all kinds of die-cast vehicles, construction kits and radio-controlled aircraft. WWE fans on the other hand, should check out Planet Wrestling. This specialist shop sells virtually every kind of wrestling toy you could ever want!
Alternatively, if you're looking for a traditional, family-run toy shop then it's worth travelling the short distance to Tickhill. Here, an independent Doncaster toy shop called Once Upon A Toy sell an enchanting range of unusual and special toys. They pride themselves on reminding people what toy shops used to be like before XBox's and Playstations!
POPULAR RETAILERS
26 High Street, Doncaster, South Yorkshire, DN1 1DW‎
01302 320535‎
OTHER RETAILERS
Gamestation

52 High Street, Meadowhall Centre, Sheffield, South Yorkshire, S9 1EN
0114 256 9299‎
Ninny Noodle Noo

21 Grangefield Avenue, Rossington, Doncaster, South Yorkshire, DN11 0LY
01302863195
Once Upon A Toy

11 Market Place, Tickhill, Doncaster, South Yorkshire, DN11‎
01302 759 500‎
TAG's Modelshop Direct

19-21 Netherhall Road, Doncaster, South Yorkshire, DN1 2PH‎
01302 367 676‎