Huddersfield Toy Shops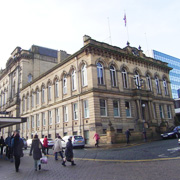 Situated almost in the centre of West Yorkshire, Huddersfield toy shops feature in the shopping centre developments, which have improved the quality and quantity of shops. Piazza, Kingsgate and Packhorse are the main shopping areas which house almost all of the usual multiple retailers.
Whilst some of these sell a selection of toys and games, a good choice of independent specialist shops still survive in other areas of the town. Customers may like to seek out Snoo-Putt in Kaffir Road or The Magic Box in Peel Street for those interested in magic tricks and games. Popular nursery supplier Mamas and Papas has an outlet in Huddersfield, and other online retailers like Gidgit use Huddersfield as their base.
FEATURED RETAILERS

Children's jewellery making kits featuring different jewellery making techniques.
Read more about Pipkits >>
POPULAR RETAILERS
36 Princess Alexandra Walk, Huddersfield, West Yorkshire, HD1 2RS
01484 426490
Online Only, Huddersfield, West Yorkshire, HD4 5NX
0845 4675929
OTHER RETAILERS
Mamas & Papas

Colne Bridge Road, Huddersfield, West Yorkshire, HD5 0RH
01484 438200
Snoo-Putt

14 Kaffir Road, Huddersfield, West Yorkshire, HD2 2AN
01484 428777
The Magic Box

5 Peel Street, Marsden, Huddersfield, West Yorkshire, HD7 6BR
01484 841 365