Corsham Toyshop and Automattic Comics
No customer reviews yet. Be the first.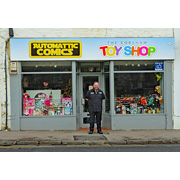 Address
25. Pickwick Road, Corsham, Wiltshire, SN13 9BQ
Telephone
01249 701647
Contact
Send an email to Corsham Toyshop and Automattic Comics now >>
About
Corsham Toyshop and Automattic Comics in Wiltshire is a traditional bricks and mortar high street store with possibly the greatest selection of modern Star Wars 3¾" action figures in the South West.
They usually have over 800 different carded figures, plenty of vehicles playsets and other Star Wars merchandise. They receive weekly deliveries from all over the world of new products carrying the full worldwide releases of the Hasbro Star Wars lines, as well as the regular Hasbro UK stock.
The staff at Automattic have vast knowledge of the Star Wars ranges since the first film was released in 1977. They run regular Star Wars and sci-fi charity event days as well, which are well documented on You Tube. They also stock other toys like LEGO, Transformers, Halo, Dr Who, The Puppet Company, Hello Kitty and Zoobles as well as NECA and McFarlane lines.
They also stock a large range of second-hand LEGO kits and weekly import comics from the USA including Marvel titles - Spiderman, Xmen, Fantastic Four, Avengers - and DC titles - Batman, Superman, Green Lantern.
Other important ranges from Automattic Comics and Toys are the imported comics and merchandise from the USA, as well as Moshi Monsters, GoGos, Fighter Pods and all the latest playground crazes. If a customer cannot locate any item they need, they are encouraged to call the shop, and the friendly staff will do their best to track down any items.
Corsham Toyshop and Automattic Comics is a Wiltshire toy shop that specialises in action figures.