Pintoy Tower Slope
No customer reviews yet. Be the first.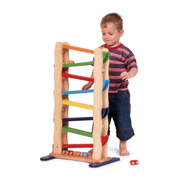 Tower Slope
Pintoy
Main Pintoy Tower Slope Features:
This large-size tower offers brightly coloured slopes for cars to zoom down, either singly or in "trains" to create different effects. Made from rubber wood, this is a high-quality toy, built to last. It comes with two individual cars, a two-car train and a three car train.
Pintoy Tower Slope Benefits:
"This was a great toy. The cars make a lovely noise as they roll down," our testers said. Aidan, three, was captivated by the motion of the cars and the bright colours and large-scale, sturdy design also make this a particularly good choice for families or nurseries caring for with children with visual impairment. A high quality toy that offers play value to all.
Skills:
Large motor skills, fine motor skills, hand-eye co-ordination.
RECOMMENDED RETAILERS

Amazon
The world's most famous online retailer sells an unparalleled selection of toys.
Buy the Pintoy Tower Slope now >>